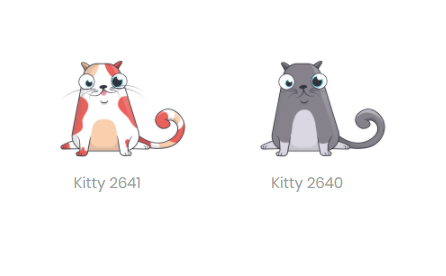 CryptoKitties is the first game created on the Blockchain.  The game works when individuals purchase a digital cat by spending ethereum. Individual cat owners can combine one or more cats to produce a third cat that shares physical features of  it's parent cats. Additionally, there is a marketplace where one cat owner could trade in digital cats. During the initial stages of the game, each digital cat, that released onto the network sold for 1$ worth of ethereum.
Irrationality in Prices of Cats.
Over a short period of time (past 2 weeks) the marketplace exploded with millions of dollars worth kitties trading hands. More recently, cats that were sold during the early stages of the game were being sold at prices more than 100000 USD. The processes of breeding, selling, and buying were all configured as smart contracts wherein trade was autimated when suitable buyers and sellers were matched. An exponential increase in trade of kitties was responsible for almost 15% of the most recent transactions (1500 blocks) on the ethereum network as per the ETH Gas station.
This backlog of transactions resulted in excessive delays on the Ethereum network, even holding up some ICO offers.
Price Irrationality
Off late,  crypto coins (bitcoin, litecoin, ethereum, etc..) and crypto assets (e.g. crypto kitties, ICOs, etc.) have seen extreme price irrationality combined with volatility. This has caused significant press and attention to these assets. In this case of crypto kitties, linking the ownership of a digital asset (crypto kittie) through a smart contract and allowing this contract to reside permanently on a globally distributed Blockchain is the main feature.  The same functionality can be accomplished for other types of assets, e.g. titles of cars, titles of houses, or titles of land, birth certificates of individuals, etc… and is much more potent at changing real-world product markets. With crypto kitties, price irrationalities are potentially related to the scarcity of supply, since, the rate of production of new kitties is significantly lower than the demand from blockchain enthusiasts.
Advantages
That being said, these technology demonstrator distributed apps and their problems have larger engineering and economic impacts.
The large adoptions of the dapps surfaces infrastructure and engineering problems related to scalability that cannot be unearthed through any form of distributed software testing.  In the short term, the core engineering teams will have to increase their scalability efforts so as to support scale. Just a single successful app, can hold up transactions for hours from other applications on the network at the current rate. If the original goal of becoming a world computer that can theoretically execute any type of contract, has to be achieved, this scalability is imperative.
This explosion of dapps, increases monetary gains for all segments of the crypto-ecosystem e.g. dapp writers, traders, and,  other owners of ether. Such a sudden increase in valuations for a tradeable digital asset has physical limitations, and is going to be corrected – hopefully by market conditions and not by regulation.